Dear Members of the Organization of Teacher Educators in Literacy (OTEL) and Readers of Literacy Practice and Research–On-Line (LPR-Online)
We are delighted to welcome you to the inaugural issue of (LPR-Online), an open access journal. Converting the LPR journal from print to an online format enables literacy practitioners, university literacy educators, and literacy researchers to connect globally. Over the years, technology has revolutionized our lives, placing resources and useful information at our fingertips. We want to be part of this technology revolution and ensure that we keep up with innovations, knowing that literacy encompasses print-based, digital, visual, numeracy, and many more literacies.
Current Issue: Volume 45, Number 1 (2020)
Articles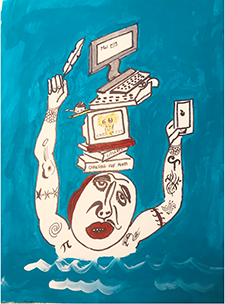 Issue External Review Board
Christy Bebeau
Susan Bennett
Sophia Han
Jennifer Schneider
Patriann Smith
David Tai
About the Cover Art
Jerome Harste is a distinguished professor emeritus at Indiana University in Bloomington. After a remarkable career in literacy education, upon his retirement, he successfully embraced visual art that has allowed him to explore new ways to think about literacy. In the cover art for this issue painting he explores the multimodal tools, expressions and complexities of literacy both as possibility and burden. .