Dear Members of the Organization of Teacher Educators in Literacy (OTEL) and Readers of Literacy Practice and Research–On-Line (LPR-Online)
We are delighted to welcome you to LPR-Online, an open access journal. We believe literacy encompasses many dimensions of life and learning, such as print, cultural, content area (e.g. mathematics, science, social studies), and technology literacy. We welcome articles and cover art submissions from practitioners, scholars, tutors, artists, and all interested readers.
Current Issue: Volume 47, Number 4 (2022)
October, 2022
Dear Readers,
We are especially excited about the articles in this issue. The journal has thrived in its global open-access position thanks to contributors, avid readers, and a dedicated group of reviewers and editors. As we move into the fall season that offers special holidays, and for some friends and colleagues, beautiful fall foliage and cold weather, we, your Literacy Practice and Research Online Team also anticipate the new year ahead in which our entire planet experiences peace, joy, friendship, and love. May we all work together.
All the best.
Janet Richards, Senior Editor
Joyce Fine, Associate Editor
Kristen Fung, Managing Editor
Jessica Krentzman, Associate Editor
Susan Bennett, University of South Florida, Reviewer
Elizabeth Knode, University of Tennessee, Reviewer
Lisa Inserra, University of South Florida, Reviewer
Anne Ittner, St. Cloud State University, Reviewer
Huiruo Chen, University of South Florida, Reviewer
Martha Galindo, University of South Florida, Reviewer
Caridad Gibson, University of South Florida, Reviewer
Articles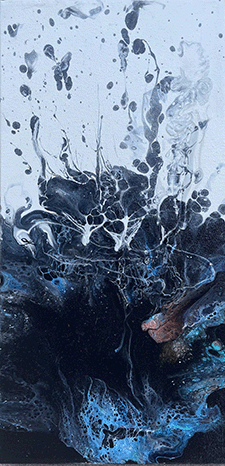 About the Artist
Julie Luey grew up in a small town as a semi-only child of immigrant parents. Art and books have always been a part of her world, whether they were something that just made her soul sing or helped her escape her world. As an adult, art plays a huge part in her life. She has traveled the world and appreciated art from different cultures and various aspects. At one time, she even worked with fine antiques. For Ms. Luey, art in its various forms is a way to transport a viewer to the past and connect them to the history of a person or culture.
This issue's cover art is a surreal representation of the complexity of literacy, and its meaning is open to interpretation by the viewer. You can also experience Ms. Luey's work set to poetry in the submission "Literacy = Human Connection," also featured in this issue.