Volume 46, Number 1 (2021)
Articles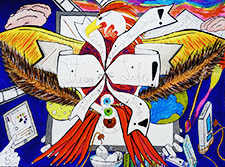 Issue External Review Board
Janet Richards, Senior Editor
Joyce Fine, Associate Editor
Christy Bebeau, Managing Editor
Susan Bennett
Sophia Han
Jennifer Schneider
Patriann Smith
Alexandra Panos
About the Cover Art.
Kristen Fung is a Ph.D. student at the University of South Florida in the Technology in Education and Second Language Acquisition program. She is a surrealist artist and English Language Arts teacher from Portland, Oregon, who takes every opportunity to merge arts-based methods with her passion for education and language.
This piece entitled "Literacy is Life" is an abstract representation of how literacy is everywhere; how literacy is reading the world. It uses symbols, the juxtaposition of elements, and bursts of color and whimsy to take the viewer into a dream-state where an anatomical heart turns into a phoenix who rises from the ink of a feather pen. In this striking painting, a set of ghostly white hands hold a giant iPad where golden fields flow out into bird wings that turn the mountains into diamonds and the clouds into brains. The earth and the moon spin under banners, which twist together at the word "is" to represent the many definitions of literacy. Old school film, floating pencils and tablets, and a deep blue background give the viewer the feeling of transition from the rainbow sky painted by an artist's brush to an ocean-like dream-state; a world where literacy meets imagination. A set of quill pens write the stories we see with our eyes, our hearts, and our minds. From birth to the ashes death and we rise every morning navigate a life of literacy. Books stacked to along the bottom ask the viewer to think of music literacy, art literacy, scientific literacy, digital literacy, and more. A 1950's power cord circles around a book on technology, attempting to use the image of an iPhone on the front. Another drools over a bowl of hatching letter-filled eggs. These are reminders of the signifier versus signified and that that every new day new opportunities for literacy are born. See this piece enlarged, along with other works from Kristen Fung, using #kfungartistry or at her website: www.kfungartistry.com.