Volume 31, Issue 2 (2013) FIU Hospitality Review v.31 i.2
Forward and Call to Action
The hospitality industry has undergone radical transformations in the past three decades. Since the 1980s, technological advancements have been transforming the hospitality industry. Global Distribution Systems (GDS), Computer Reservation Systems (CRS), developments on the Web, advanced Customer Relationship Management (CRM) software and many other advances have changed the way hospitality companies conduct business. Their implications for research have also been tremendous. We can see a clear pattern that in recent year that hospitality research has improved in terms of methodology and statistical procedures. Earlier empirical research studies mainly included descriptive statistics. However in the past years we can observe that more sophisticated methods are being used such as SEM and PLS with the help of software such as LISREL, AMOS, and MPlus. Most of current research in the hospitality is empirical and they tend to deploy primary field surveys in a variety of areas such as marketing, consumer behavior, food science, accounting, finance, human resources, information technology, strategic management, entrepreneurship, pricing, psychology to name a few.  Hospitality researchers are now investigating a range of phenomenon, using diverse data and methods, producing new forms of scholarly output, and engaging in innovative new forms of research and publication. This call to action specifically focuses at the progress in information technology research in hospitality literature.
     Uncovering ever changing needs of contemporary traveler needs and trends is important for hospitality research. We, as researchers need to explore the unknown and unseen and utilize creative and innovative research approaches. Contemporary travelers are always connected. Hotel bookings from the Internet and mobile devices are on the rise. They use more devices across a common set of platforms to help decision making process, purchase, WOM behaviors and so on. Marketing research shows that the amount of time people spend on a mobile device is growing rapidly, at 14 times the rate of desktop usage. Mobile is becoming a more prominent channel for commercial transactions. Social media usage is still growing, presenting a great potential for both practitioners and academia. Hashtags also open up new opportunities.  Research studies indicate that photos make up half of news feed stories in social media. Therefore, visual interactions with branded content on social media will create research opportunities.
Call to Action:
Conduct research studies to investigate the differences among e-commerce of products vs. services. 
Work on continual study of online customer experiences by adopting theories from multidisciplinary perspectives. 
Collaborate with researchers in other fields.
Carry on research that combines a theoretical foundation with research questions that have value both to the industry and to the body of knowledge.
Focus on emerging areas such as
e-commerce and market intelligence
Recommender systems 
Social media monitoring
Social and virtual games 
Gamification
Impact of customer generated content
Full Issue
Articles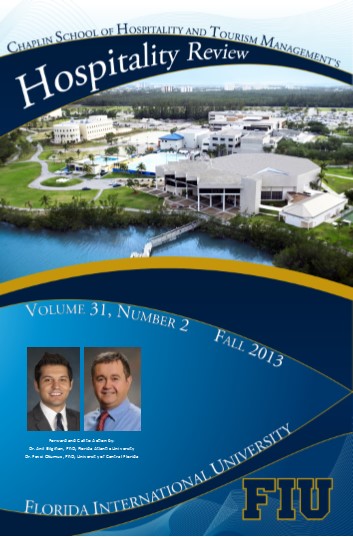 Publisher:
Mike Hampton, Dean, Florida International University
Editor in Chief:
Randall S. Upchurch, Associate Dean-Academics, Florida International University
Managing Editor:
Catherine Curtis, Assistant Professor, Oklahoma State University
Communications Editor:
Nathan Dodge, Assistant Director, Florida International University
Editorial Board:
Barbara Almanza, Professor, Purdue University
Mark Bonn, Professor, Florida State University
Robin DiPietro, Associate Professor & Director of the IIFRE, University of South Carolina
Chekitan Dev, Professor, Cornell University
Nicholas Hadgis, Dean, Widener University
Kimberly Harris, Professor, Florida State University
Leonard Jackson, Associate Professor, University of Memphis
Michael Kasavana, Professor, Michigan State University
A.J. Singh, Associate Professor, Michigan State University
Sandy Strick, Director of Graduate Studies, University of South Carolina
Hubert Van Hoof, Professor, The Pennsylvania State University
Technical Assistant Editor:
Dale Gomez, Director, University Computer Systems, Florida International University
The FIU Hospitality Review is published by the Chaplin School of Hospitality & Tourism Management, Florida International University, North Miami, Florida. International
Standard Serial Number: ISSN 0739-7011.
Contents © by FIU Hospitality Review. The reproduction of any artwork editorial or other material is expressly prohibited without written permission from the publisher, excepting the one-time educational reproduction which is allowed without express permission. All rights reserved. Copyright © 2013.
Editorial policy: FIU Hospitality Review does not accept responsibility for any of the views expressed in its pages. Rather, the editorial board accepts the responsibility for providing an open forum for a broad range of views to be expressed. Articles do not represent a consensus of opinion; some ideas presented are in open disagreement with others, and no reader should be able to agree with all ideas expressed.